Alleghany: Ransom Brooks, criminal gang
September 9, 2019
The Case Of Ransom Brooks, Alleghany Co, NC
It was in 2001 when my cousin Dennis Brooks loaned me three rolls of microfilm of The Alleghany Times covering the years 1933 to 1941.  After a few weeks of meticulously scrolling through every page of the newspaper and finding only brief mentions of familiar names, I discovered a series of very surprising articles.  The title of the first article graced the front page on February 24, 1934, and was titled Worst Criminal Gang in Alleghany For Years Apprehended in Recent Raid.  The second paragraph begins by naming Ransom Brooks as the ringleader of a gang who, it later says, had "terrorized Alleghany citizens over a period of several months".  Ransom Brooks was my great-grandfather.
I had no idea my great grandfather was so infamous.  Even though I had heard him referred to as "The Bull of Bullhead Mountain", I assumed that it was just a spirited nickname for someone who might have caused a bit of mischief at times.  As it turns out, he earned that moniker as a result of much more serious and criminal actions.
Ransom Garfield Brooks was born on 9/23/1903 to John A. Brooks and Meadie Ann Edwards, the youngest of six children.  They lived in Cherry Lane about a mile west of where US 21 now crosses the Blue Ridge Parkway.  At the age of 24, he married Edith Blackburn on 2/15/1928 in Alleghany Co at the home of the Justice of the Peace, J. F. Royal.  Later that year they had their first son Harrel, followed by another son Bill in 1930.  They had a daughter Dorothy born in February 1933.  That's about the time when things got interesting in the life of Ransom Brooks.  He is pictured here, perhaps in the 1930s.
<![if !vml]>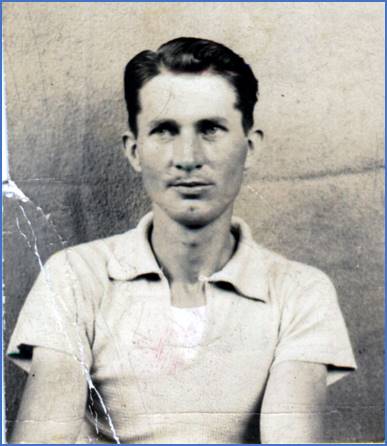 <![endif]>
As were many people in the North Carolina mountains in the 1920s and 1930s, Ransom Brooks was in the liquor business.  For some it was simply a way to make extra money when there weren't many other options to farming.  However, Ransom's tactics were more aggressive and creative than most.  It has been said that he would stand at the NC/VA state line, dressed as a member of the clergy, and stop passing cars.  He would sell them liquor before letting them go on their way.  He would also change into a patrolman's uniform, chase cars down, and forcefully take their liquor.  Ransom Brooks believed that a diversified approach was the key to success. 
This photo was probably in the 1920s or early 1930s.
<![if !vml]>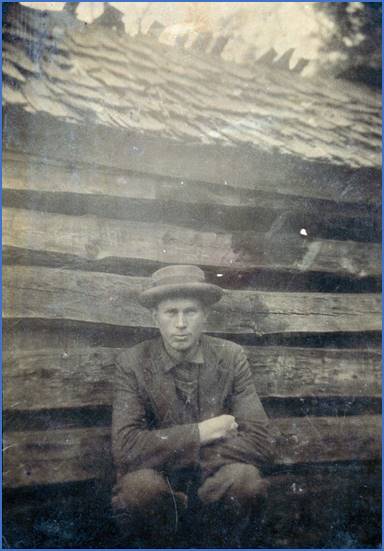 <![endif]>
On February 14, 1934, his adventures came to an abrupt halt when he was arrested that night in Sparta along with Odell Holbrook, age 18.  A third person Vess Douglas, age 30 of Surry Co, was arrested the next day.  Ten days later the story made the front page of The Alleghany Times describing how multiple law enforcement agencies from across the state assisted with the round up.  Authorities suggested that multiple recent crimes had been committed by this gang who had been "preying upon the people of this section" for several months. 
<![if !vml]> <![endif]>
The Alleghany Times (Vol 9, No 40), February 24, 1934
Pages 1, 4
Worst Criminal Gang in Alleghany For Years Apprehended in Recent Raid
Jail Keys, Policeman's Outfit And Parts Of Stolen Cars Among Articles Found
In Possession Of Men Arrested
The State Highway Patrol, assisted and directed by Walter M. Irwin, Alleghany County Deputy Sheriff, swooped down in Alleghany and Surry Counties last week and frustrated what is thought to be one of the worst gangs of criminals heard of in Western North Carolina for many years.  The raid came as a complete surprise to the people of the county and was so carefully planned that even county officers did not know that it was coming.
      As a result, Ransom Brooks, 29, and Odell Holbrook, 18, of the Bull Head section of Alleghany county, and Vess Douglas, 30, of the Mitchell's River section of Surry County, are lodged in the Winston-Salem jail charged with several serious crimes ranging from highway robbery to impersonating officers of the law.
      Several thousand dollars worth of stolen property has been recovered and it is expected that a series of holdups, automobile thefts, store breaking, etc., will be explained.  Douglas has admitted his part in the crimes and has implicated the other parties being held.
      For several months this gang has been preying upon the people of this section.  Several motorists have been stopped on the Sparta-Elkin highway and relieved of their automobiles and valuables.  Several people have been stopped and allowed to go on unmolested after having been identified by members of the gang.  They have made a specialty of liquor laden cars, and in all cases where liquor was found on the car the driver was allowed to escape and the car and liquor confiscated.
      In Brooks' home was found a complete patrolman's uniform, including cap, badges, a John Brown belt, hand cuffs, etc.  A complete set of perfectly fitting keys to the Alleghany county jail was in a dresser drawer in the home of Brooks.  The search also revealed burglary tools, a large amount of dynamite taken from the road camp near Independence, a stolen gas lamp taken from a nearby church and a set of chains taken from the car of Mack Edwards, of Whitehead, the night before the arrest of Brooks and Holbrook, when the car was towed four miles from his home and stripped of tires, lights, tools, etc.
      Brooks and Holbrook were arrested in Sparta Wednesday night of last week in a carefully arranged plot.  In their automobile were found a sawed-off shotgun, one other shotgun, two high-powered rifles, burglary tools and a coil for starting cars without a key.  The car was equipped with a police siren.  A pistol was taken from the person of Brooks, which he attempted to use when arrested by Sergeant Guy Duncan of the State Patrol.  The trio are also charged with breaking into the Cash & Carry Store at Sparta in November when six thousand pounds of sugar, a cash register, etc., were taken, and Douglas has admitted his part in this theft.  The body of the car of J. M. Parsons that was stolen from Independence last fall was found within a few feet of Brooks' residence, hidden under some brush.  The car which Brooks was driving when arrested contained parts from several stolen automobiles. 
      Douglas was arrested at his home in Surry county.  Several truck loads of automobile parts were found around his home.  It is thought that all cars stolen and hi-jacked by the gang were taken to Douglas for re-building.  Some of the cars have been traded, and officers are making a close check-up in locating all the cars that have been in their possession. 
      Captain Farmer, of the State Patrol, and L. L. Harris, of the Motor Vehicle Bureau of Investigation, both of Raleigh, were here in person and assisted in the round-up.  Two members of the United States Bureau of Investigation and one detective employed by insurance companies were on the scene, also.
      It is expected that the three will be tried at the May term of Alleghany Superior Court here.
<![if !vml]>

<![endif]>
In the March 1, 1934 issue of the newspaper, Lieutenant W. J. Croom of Greensboro said that they were trying to find parts of automobiles stolen over the last two or more years.  The officers said, "Working the most intricate jig-saw puzzle is easy in comparison with this job of gathering together these scattered portions of cars."  The paper goes on to say, "By illustration, the officers on an all-day tour last week, identified a light roadster, 1932 model, stolen in Salisbury on August 1, 1932, after locating the body of the machine in Jonesville, the rear axle in Sparta, the motor on Bull Head Mountain, and the wheels evidently are still revolving some place, the officers believe."
On March 8, the newspaper describes the carefully planned apprehension of the "gang".  The operation included members of the NC State Highway Patrol, the Motor Vehicle Bureau, the Automobile Underwriters Detective Bureau, and the Alleghany and Surry Co Sheriffs Offices.  When the officers arrested Douglas, in his possession "was found a car, the motor of which belonged in a car that was stolen from J. W. Conklin, Mouth of Wilson, VA".  After obtaining a warrant to search Brooks' home, officers found a coupe body "stored in the woods near the home and it was later identified as belonging to the coupe owned by Ex-Senator J. M. Parsons, Independence, VA, which was stolen from in front of his home on the night of last October 9.  The chassis and frame of this car was later found in the woods near Douglas' home in Surry county."  The article goes on to say that no charges have been filed regarding the theft of these two automobiles since these crimes would be tried in Federal court or in the court of Virginia.
Among other items found were "about 200 pounds of dynamite, stolen from a construction company near Independence, VA."  At Brooks' home they found a complete set of Alleghany Co jail keys, a pair of handcuffs, a Sam Brown belt and holster, a uniform cap, two badges, a Coleman gasoline lantern, a Remington typewriter, a South Bend pocket watch, a Waltham pocket watch, and one set of pipe dies.  Also, Douglas drew officers a map showing the location of the cash register stolen from the Cash & Carry store in Sparta.
On March 15, the newspaper reported that Holbrook was released due to lack of evidence.  However, Douglas and Brooks were being held in the Forsyth Co, NC, jail under $10,000 bond.  Nearly two months later on May 7, the Spring term of Alleghany Superior Court opened.  On May 10, the paper reported that "a record breaking crowd filled the town to overflowing and crowded the courthouse beyond capacity" in anticipation of the trial.
On May 17, the newspaper announced that Ransom Brooks, "ringleader of the outlaw band", and Ves Douglas, "another member of the Bull Head Mountain gang" were found guilty of multiple crimes.  The Alleghany Times included an article printed in the May 11 issue of the Greensboro Daily News, home city of Lieutenant Croom.  The article says that "Ransom Brooks, the confessed ringleader, whose activities earned for him the picturesque sobriquet 'Bull of Bullhead mountain', pleaded guilty in all cases called against him and drew from 6 to 9 years in state prison at hard labor."  Ves Douglas received one year of labor on the roads.
The article continues, saying, "Brooks is as picturesque a mountain character as his nickname might suggest....  He was charged with automobile larceny in several cases, carrying a concealed weapon, highway robbery with firearms and impersonating a state patrolman.  He pleaded guilty in all cases, as did co-defendant, Douglas."  The article goes on to say, "Testifying in his own case, Ransom Brooks admitted, Croom said, that he had hijacked many a Virginia rum-runner on the border roads of Alleghany county.  Brooks testified that once, while running 100 gallons of liquor into Virginia, he himself had been hijacked by boot-leggers from the Old Dominion state.  His repetition of the treatment accorded him in that instance was carried on for vengeance."
"In this respect his work was accomplished by the aid of a state highway patrolman's uniform, which he unhesitatingly donned, and powerful car equipped with a siren.  'Brooks lay in wait only for Virginia cars,' Lieutenant Croom remarked.  'Once he chased a group in a Virginia car all the way to the Sparta courthouse before he found that the car did not contain liquor but was occupied by a sister of Solicitor Higgins, the postmaster at Independence, VA, and several others."
Documents at the Alleghany courthouse list the charges against Ransom Brooks, in Minute Docket H, pages 299, 300, 303, and 328.  According to the records, "the defendant withdraws his plea of 'not guilty' and tenders a plea of 'guilty'" to Larceny and Receiving.  He also pleaded guilty to Highway Robbery, Carrying a Concealed Weapon, Attempt to Rob, and Representing an Officer.
He was found guilty on all of these charges.  "It is the judgment of the court that the defendant Ransom Brooks, in this case be imprisoned, at hard labor in the State prison at Raleigh for a term of not less than six nor more than nine years."
Ransom was admitted into Central Prison in Raleigh on 5/12/1934.  The inmate admission book listed him as 6'-3/4" tall, 171 pounds, with blue eyes and black hair.  His occupation was given as "mechanic".  The photo below was taken while he was in prison.
<![if !vml]>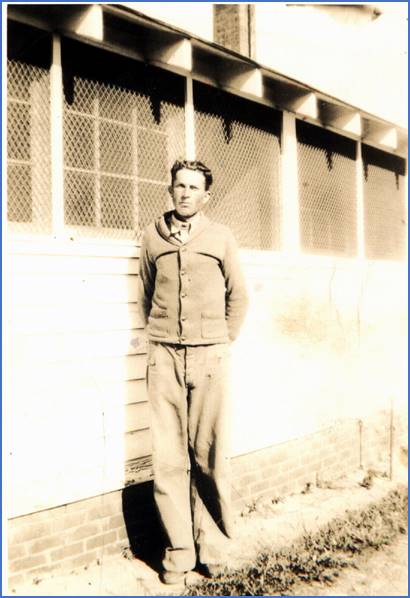 <![endif]>
After less than four months in prison, Ransom was again making news.  The September 6, 1934 edition of The Beaufort News, p1, reported on the death of prison guard Ernest Hux at Caledonia prison farm in Halifax Co.  He was accidently shot by another guard who was shooting at five escaping convicts.  The convicts had overpowered Hux and placed him in the coupe of prison director Edgar L. Shearon who was also forced into the car.  The brief article states that all five were captured before leaving the prison property.  Three of the convicts were in for murder, and two were from Yadkin Co.  Ransom Brooks of Alleghany Co was in for robbery.
This photo was taken during a family visit while he was in prison.  Ransom is standing in the center beside his wife.  His son is at the far right.
<![if !vml]>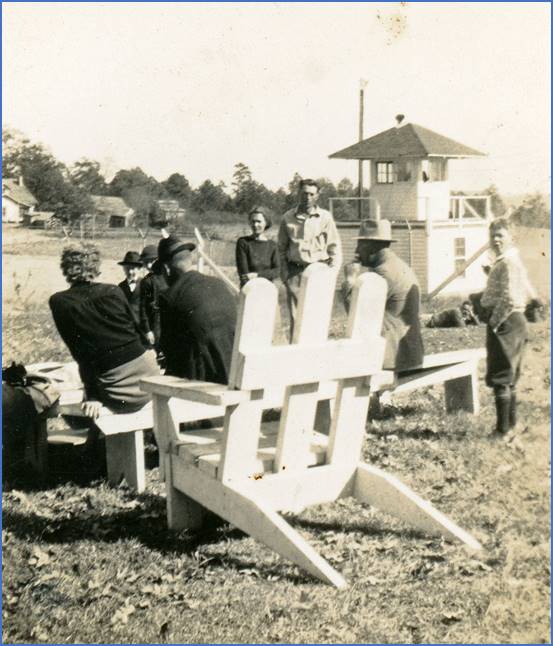 <![endif]>
One would think that his escape attempt would have increased his time in prison, but apparently it didn't.  Five years and two months after he was admitted, he was released on 7/29/1939.  In June 1940, he and his wife had their fourth child, a son Jimmy. 
Unfortunately Ransom's time in prison didn't convince him to change his ways and turn his life around in a more positive direction.  An article in North Wilkesboro's The Journal-Patriot, p4, on May 1, 1941 lists prison sentences handed out in U.S. court.  "Homer D. Blackwelder Jr and Howard Lee Blackwelder received a year and day at Chillicothe, and Ransom Brooks received two terms of 18 months each at Atlanta.  All were close associates of Biles in hauling liquor from the mountain counties to Cabarrus.  One of Brooks' terms was for a charge transferred from the court of Wilkes."  John William Biles of Cabarrus Co was described as the ring leader in a conspiracy case involving the transportation of "white liquor" and he received a two year sentence for his role.
Ransom Brooks was eventually released from prison in Atlanta, and he returned home to Alleghany Co.  He died at the old Davis Hospital in Statesville on January 19, 1947.  According to his death certificate, the cause of death was pneumonia due to alcoholism.  He was buried at Woodruff Primitive Baptist Church in the same cemetery where his parents and grandparents were also buried.
<![if !vml]>

<![endif]>
Comments?  jason@webjmd.com