Wilkes: Bauguess, WWI
July 28, 2020
Spotlight on Click Bauguess of Wilkes Co, NC
William "Click" Bauguess was employed by Imperial Drop Forge Co in Indianapolis when he filled out his military registration card in June 1917.† He was 24 years old and, like all young men at that time, he was required to register for possible military service. He was described as tall and slender with blue eyes and dark brown hair.
<![if !vml]>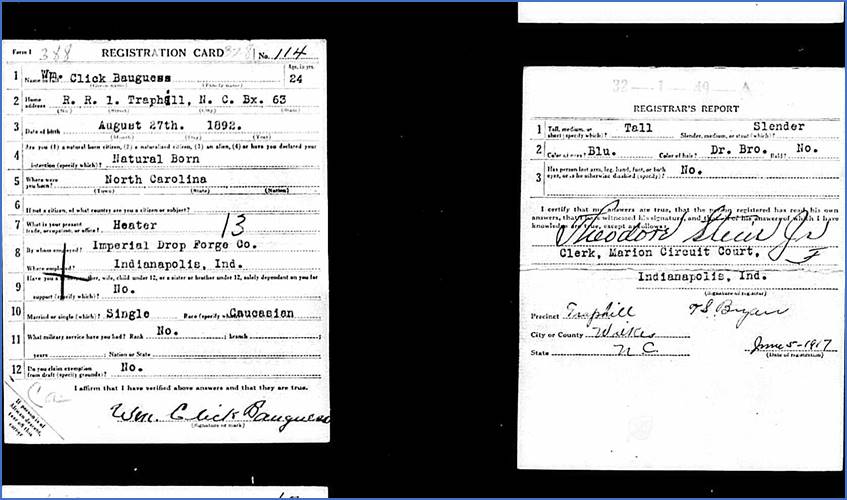 <![endif]>
He was from Wilkes Co, NC, and was the son of Hort Bauguess and Sally Pruitt. He was a double first cousin of my great grandpa John S. Bauguess.† He enlisted in the Army on 9/19/1917, and the following August he sailed from New York to England aboard the "Aquitania". Just three years earlier this was a cruise ship, but the start of WWI drove the military to convert it to a hospital ship and eventually to a troop transporter. On that 1918 passenger list (below), Click's rank was PVT, and his next of kin was his father "Lewis H. Bauguess".
<![if !vml]>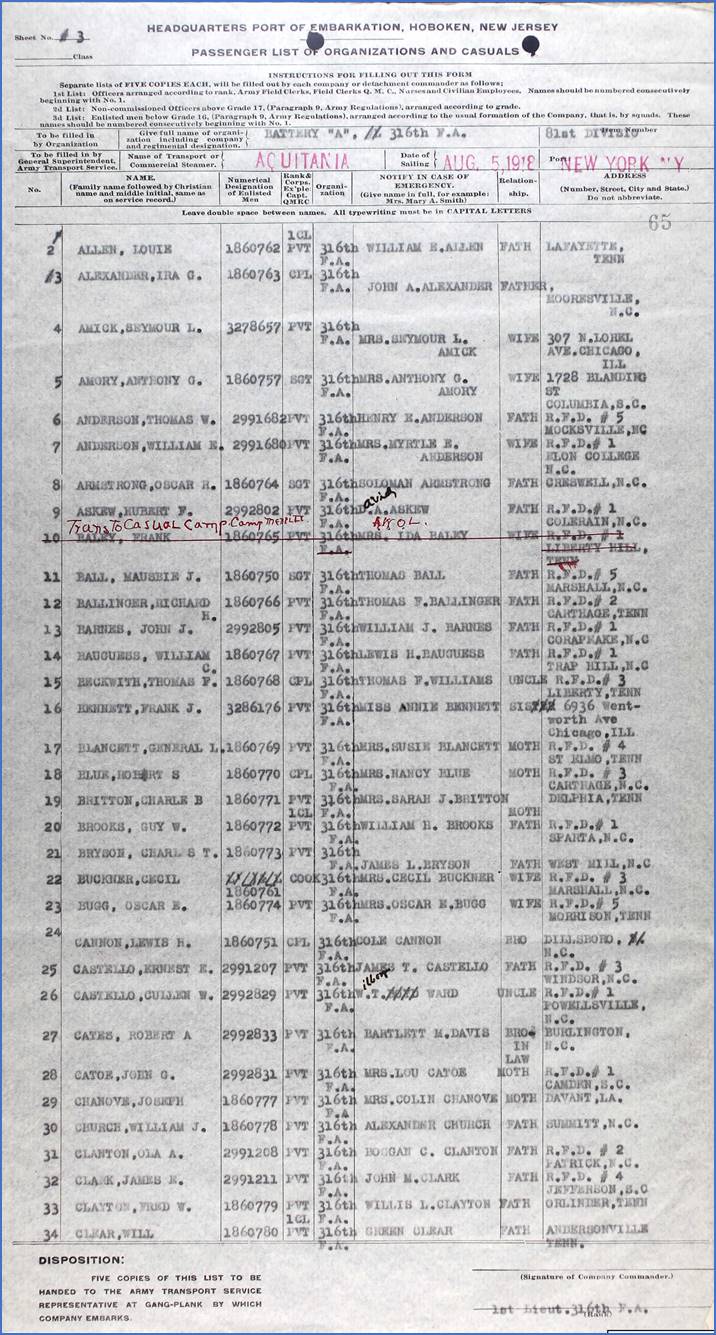 <![endif]>
The Aquitania was a British vessel.† You can read more about it on wikipedia.†
<![if !vml]>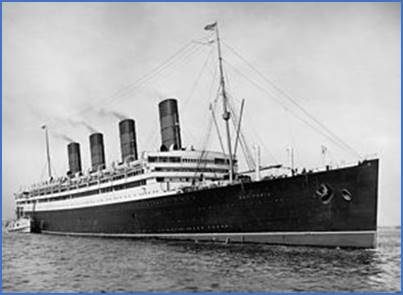 <![endif]>
In May 1919, after the conclusion of the war, Click made his return trip home by sailing from France to Newport News, VA.† He served 21 months in the Army.† He is number 11 on the passenger list below.†
<![if !vml]>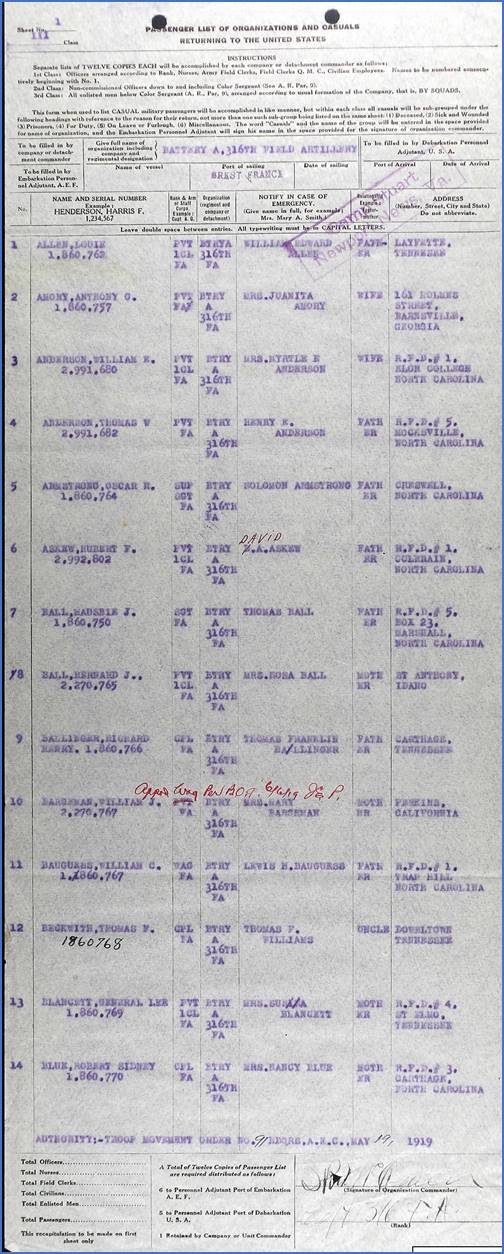 <![endif]>
On this passenger list, his rank is listed as "WAG FA". He was a Wagoner for the Field Artillery. That's a rank that probably doesn't exist any more! This is the short description of what that role required:
THE WAGONER (Driver, teamster)
Army vehicle transportation by animal consists of spring wagons, ambulances, and escort wagons
The Wagoner must have a thorough knowledge of the following:
1. The adjustment of the harness, driving, and the methods of receiving, stowing, and caring for cargo, and of securing loads on the wagon.
2. The nomenclature of vehicles (wagons), harness, spare parts, and accessories, and where they are carried on the vehicle.
3. How to groom, water, feed, and care for animals.
4. How to clean and care for vehicles, harness, and equipment
5. How to harness and unharness animals
6. How to hitch and unhitch animals
7. How to lash loads
8. How to repair his vehicle if need be
9. How to handle animals effectively
Read more about a US Army Wagoner and see a few photos here:
Back home in Wilkes Co, Click Bauguess married Nancy Ethel Warren on 12/31/1924. They had 7 children, and in the 1940 census, they were living next door to my great grandparents in the Lomax community. †Probably sometime in the late 1930s, Click was visiting them and he and his cousin John were making music and drinking.† Click was in the floor and his pants leg got too close the fireplace, and it caught on fire.† Johnís wife Verna, my great grandma, soon realized what had happened, and she helped put out the fire.† But over the next few days, gangrene set in and at least part of his leg had to be amputated.† As my grandma tells the story, he lived several years after that happened.
Click died in 1944 after a one week stay at Baptist Hospital in Winston-Salem.† According to his death certificate, he had had flu-like symptoms which eventually turned into Landryís Paralysis.† I looked it up, and itís a sudden onset paralysis.† As his body was paralyzed, he died from respiratory failure.†
<![if !vml]>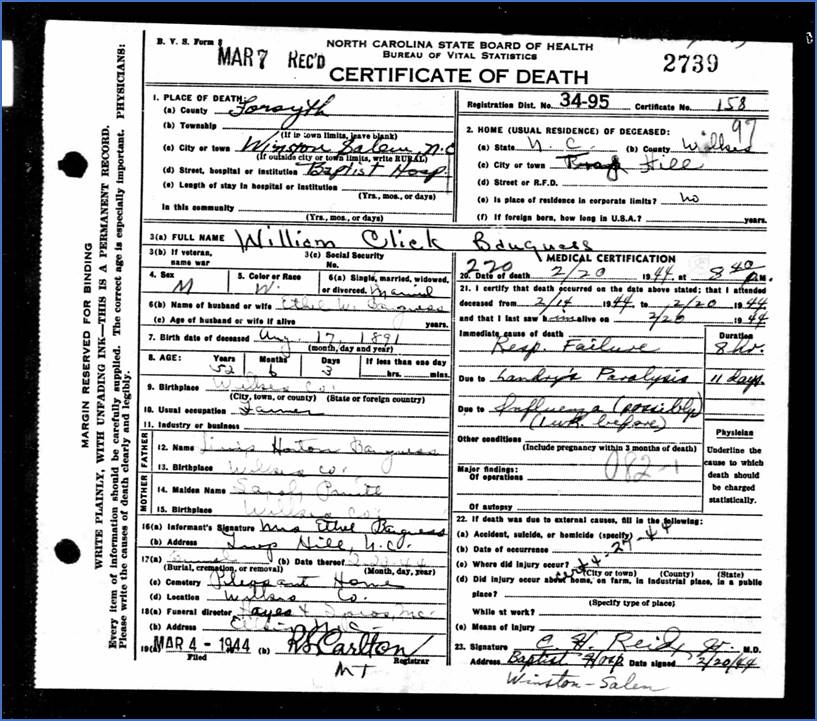 <![endif]>
My grandma, who was 12 years old at the time, remembers them bringing his body home to his mother Sallyís house.† That evening, my grandma went to Sallyís house with her Aunt Mollie.† There were maybe a half dozen other people there, too, as they participated in the wake.† They sat up all night and went home the next day.† He was buried at Stony Ridge Church.
Later that year, the family applied for a military headstone.† The application gives the dates of his service along with his birth and death dates.† Today he doesnít have a military headstone, but I suppose itís possible that he did initially.† He shares a headstone with his wife Ethel who outlived him by 50 years.
<![if !vml]>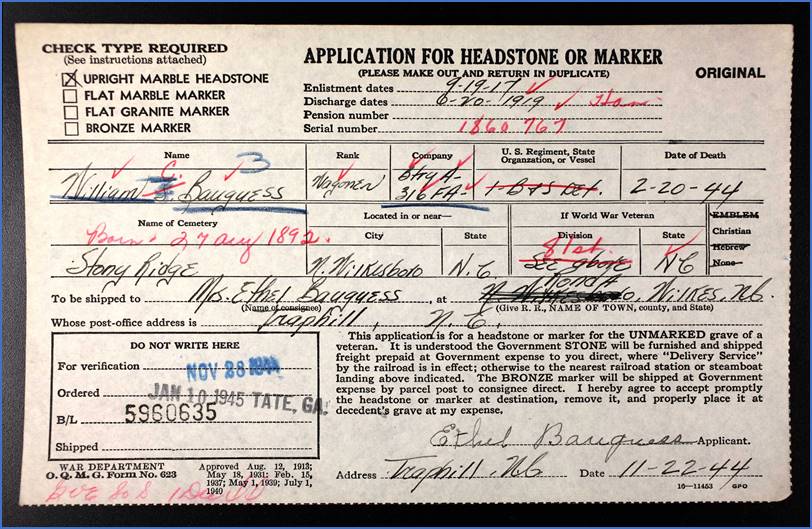 <![endif]>
<![if !vml]>

<![endif]>
Comments?† jason@webjmd.com