Grayson: Caudill, Warner, DNA
June 27, 2020
Mont Caudillís Warner Ancestors
It was four years ago when I discovered that I had a great great grandfather named Robert Mont Caudill who was born in 1887 in Grayson Co, VA.† In 1906 he married Alice Davis at her fatherís home in the southern part of the county.† Their first daughter Alma, born in 1907, was my great grandmother.†
The following year I started digging deeper to see what more I could learn about Mont.† I found out that he was a troubled man who spent time at the Southwest State Hospital in Marion, VA.† Iíll save the details of his hospital stay for another story, but his admission record provides some interesting genealogical information.† It states that his parents were Calvin Caudill and Alice Caudill.† It took some time to figure this out, but eventually I realized that wasnít exactly right.† His mother was, in fact, Alice Caudill (1863-1917), but Calvin was his grandfather.
Alice wasnít married when Mont was born in 1887, but she married John McMillan five years later.† They lived in neighboring Alleghany Co and had at least seven children.† Meanwhile, young Mont stayed in Grayson Co and appears to have grown up with his grandparents Calvin Caudill and Sarah Jones.† He is listed in the 1900 Grayson census as ďMaud R.Ē, age 12 and the youngest daughter of Calvin and Sarah.† The person providing the household information said ďMontĒ, but the censustaker heard ďMaudeĒ.
<![if !vml]>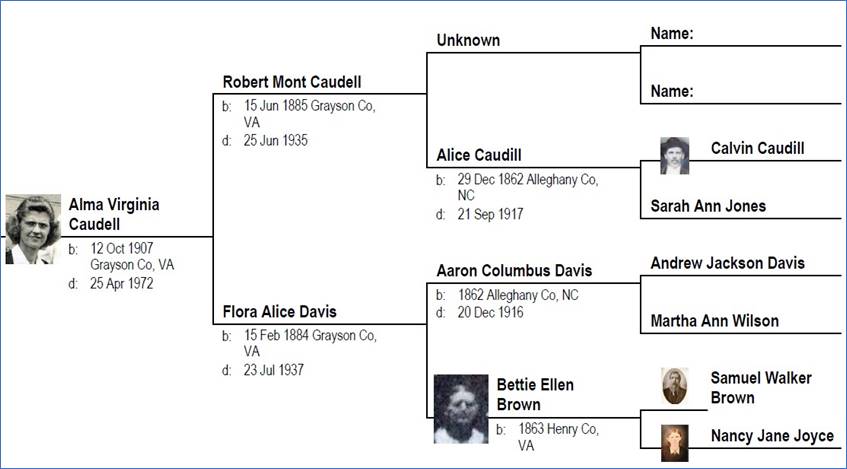 <![endif]>
As part of the admission and evaluation process at the hospital, the doctors interviewed Mont to determine his condition and the best course of treatment.† One of the questions provides a big clue as to who Montís father was.† The doctor asked, ďYour mother wasnít married when you were born, was she?Ē† Mont replied, ďNo, sir.Ē† Then the doctor asked, ďAnd your father ___ a ______?Ē† And Mont answered, ďYes, sir.Ē
<![if !vml]>

<![endif]>
Unfortunately, the photocopy of the typed transcript isnít very clear at those words.† Because itís a typewriter fixed-width font, I knew the first word was 3 letters, and the last word was 6 letters.† Maybe it says ďwas a farmerĒ?† I tried several possibilities until my best guess was that the doctor asked him if his ďfather was a WarnerĒ.
There werenít a lot of Warners in Grayson Co in the 1880s.† That could be a good thing since there were fewer possibilities to consider.† Or, it could be a bad thing.† Maybe I misinterpretted the messy photocopy, and it didnít say ďWarnerĒ at all.† I needed more information before I could make more progress.
DNA To The Rescue
When all else fails, turn to the DNA.† This is on my momís side of the family, so I went to her DNA test and started mapping her DNA.† That is, I assigned her DNA on each chromosome to the ancestor whom she inherited it from.† We each get half of our fatherís DNA and half of our motherís DNA.† They each got half of their fatherís DNA and half of their motherís DNA.† So, working backwards, I have some of each of my grandparentsí DNA, and some of each of my great-grandparentsí DNA, and so on.† With each generation back, we have a smaller and smaller amount of DNA that was inherited by those earlier genereations.
As humans, we all have 23 chromosomes, and each of them is made of half DNA from the father and half from the mother.† My mom has a certain piece of DNA that is shared by a few other people who descend from John Shupe and Louisa Ferguson who arrived in Wythe Co, VA, in the late 1700s.† John and Louisa had many children, and my momís DNA matches descend from several of them. †The only way they would all share this piece of DNA is if they had a shared ancestor. †This suggests my mom likely descends from John and Louisa as well.† But since I donít yet have them in my tree, this is potentially a new and exciting discovery.
The image below shows the map of chromosome 15 using my momís DNA test.† The top half shows the source of DNA from her fatherís side.† The bottom half shows the source of DNA from her motherís side. †This is the result of years of studying my DNA matches, encouraging more cousins to test, and looking for shared ancestors among those who have tested.† A lot of work went into making these colored lines, but itís fun to see where my momís DNA came from.†
<![if !vml]>

<![endif]>
On her fatherís side, most of chromosome 15 was inherited from her grandmother Alma Caudill, and from Almaís mother Alice Davis.† On the right side, position 78 through 100 is shaded with a question mark.† Iíve determined that this segment is from a particular ancestor, but I donít yet know which one.† In the upper right, I noted that I have a cluster of DNA cousins who share Shupe ancestors from position 90 through 96.
If Iím descended from John and Louisa Shupe, where would they fit in my family tree? †Judging by some of the DNA matches who shared these ancestors, I knew it was on her fatherís side, but that left a couple possibilities.† Of course one of those possibilities is that this Shupe line is somewhere above my great great grandfather Mont Caudill.
I explored the family trees of these Shupe matches to see if there was any kind of pattern.† I worked on this off and on for two years before I noticed that John and Louisa Shupe had a granddaughter Taletha Shupe (born 1826) who married James Warner (born 1826) in 1847 in Grayson Co.† Thatís interesting!† This would explain both my Shupe AND Warner clues! †James and Taletha had three sons born between 1848 and 1854 who would be good candidates for the father of my Mont Caudill.† But this doesnít prove anything yet.† Itís all circumstantial evidence so far.†
The Warner Connection
If James Warner and Taletha Shupe are my ancestors, then I need to learn more about the parents of James Warner.† He was the son of John Woodson Warner (born 1794 Wythe Co) and Eve Alley (born 1800).† Iím already interested in this because Iíve seen Alley in the family trees of some of my other DNA matches.† If a surname appears in the family trees of my DNA matches more than youíd expect, there might be a reason for that.† Maybe I have an unknown Alley family ancestor, too.
John Woodson Warner married Eve Alley in 1820, but Eve died in 1841.† The next year he remarried to a lady named Martha, and they had children.† As I continued to explore my DNA matches, I was surprised that I had three who descend from Woodson Warner and his second wife, and we all shared the same piece of DNA.† This was big news!† This is the closest thing to proof that I descend from Woodson Warner.†
<![if !vml]>
<![endif]>
I have one piece of DNA that comes from Woodson Warner (position 78 to 90), and another piece of DNA that comes from his daughter in law Taletha Shupeís family (position 90 to96).† Since those two pieces of DNA are adjacent to each other on chromosome 15, they were likely passed down to their son Mr. Warner, and then to his biological son Mont Caudill.† The updated chromosome 15 map is shown below.
<![if !vml]>

<![endif]>††
Iím convinced that my great great grandfather Mont Caudill inherited DNA from both sets of his fatherís grandparents Ė the Warners and the Shupes.
If Iím right so far, then Mont Caudillís paternal grandparents were James Warner and Taletha Shupe.† As I said before, their three sons were born between 1848 and 1854.† Mont was born in 1887.† I donít yet know which son was Montís father, and initially I havenít found out too much about them online.† Hereís what Iíve found so far about each son, all born in Grayson County.
<![if !supportLists]>∑ <![endif]>Lewic C. Warner (1848 Ė 1935) married Matilda Vaughan.† In 1869, their son Wiley Houston Warner was born in TN.† In 1880 they were in Hancock Co, TN.† By 1920 they were living in Texas.† It appears that Lewis had left Grayson Co before the 1880s, and so heís less likely to be the father.
<![if !supportLists]>∑ <![endif]>Joseph G. Warner (1850 Ė 1901) married Lucinda Snow in 1871.† They were in Grayson Co in 1880 and neighboring Wythe Co in 1900.† Their oldest son Harvey was born in 1872.† Heís still a good candidate.
<![if !supportLists]>∑ <![endif]>Fielden Warner (1854 Ė ?) married Nancy Russell in 1873.† They were in Grayson Co in 1880.† Their first child was born in 1874, and their youngest was born in 1893 in Grayson Co.† I donít know when Fielden died, but it was after 1893 which means heís still a candidate.† I havenít found him or his family in the 1900 census.
In the hospital interview of Mont Caudill in 1926, the doctor asked him about his parents.† Mont said they were both dead.† The doctor asked how long they have been dead, and Mont replied, ďA long time.† My father may be living, I donít know, but my mother is dead, I know.† I have never seen my father.Ē†
He was right about his mother Alice since she had died in 1917.† If either Joseph or Fielden Warner were his father, then Montís father had likely died by 1901.† And, as he said, he wouldnít necessarily know if his father was still living or not if he had never met him.
And this is as far as the story goes for now.† As I continue to look at DNA matches and contact possible cousins online, Iíll be working from the theory that either Joseph or Fielden Warner was my 3X great grandfather.† As more people take DNA tests, I should eventually be able to prove this theory either right or wrong.† Itís a lot easier to proceed from a working theory than it is to blindly search for a missing ancestor.† I hope to hear from anyone related to these Caudill or Warner families that might be able to provide more information.
<![if !vml]>

<![endif]>
Comments?† jason@webjmd.com